Backlit Window Displays Will Surely Add-on Attraction
Are you looking for an attractive picture and poster frame to stand out in your signage? By way of using an eye-catching illuminated backlit window display for your ads and listing information is a great way to stand out from competitors. Mruiks Displays, as one professional manufacturer and supplier of backlit sign display, we can custom make a wide range of LED window display lightboxes, from A4 to A1.
Each LED display is made of a quality acrylic panel and adopts advanced LED lighting technology. LED bulbs last much longer than other kinds of traditional illumination, such as T5 or halogen bulbs, etc. With these advanced low voltage LED lighting embedded in these advertising led lightbox, it can last 100,000 hours bright light without needing any maintenance – perfect for long-term use, day and night. It makes it possible for your business to be displayed in front of passer-by the whole day.
These storefront window displays are perfect for grabbing the attention of potential customers, and they showcase your featured products, new listings, the latest release, special offers, promotion information, sales, upcoming events, and menus, etc.
Our rod cable lightbox is ideal for real estate agents, letting agencies, high street, retail stores, estate agents, cinemas, travel agencies, and other establishments.
Why use LED Window Displays for My Storefront?
*Multiple configurations and the different sizes of a poster frame for your selection
*Ultra slim design make these backlit window displays & poster frames look great and attractive from both inside and outside business
*Dual-sided display allows maximum exposure in limited space for your listing and ads
*LED-lit picture frames last a long time, but are very energy-saving
*Magnetic front panel allows for quick poster changes without any tools necessary
*Bright frames have between 3000 and 6500 lux depending on frame
*Easy to install these cable, no need for a professional electrician.
*Long life-span, maintenance-free for the whole life
Magnetic Front Led Window Displays
Short Description:
*Magnetic front panel led lightbox, fast to change poster
*High bright and evenly lighting
*Bring your image to life with an incredible and bright effect
*Between two-wire cable, which makes these light pockets floating
*Wall to a wall, floor to ceiling, and floor to wall design
*A3 and A4 in vertical or horizontal format can be mixed in the same column
*Ideal to showcase listings, posters, Ads, signs, etc
*Widely used in Estate Agents, Property Agents, Job Agents, Beauty Salons, Restaurants, Travel agencies, etc
*DIY your window display systems and easy installation online
Technical Details:
√Magnetic front panel, just slide the front panel with a second
√Frame color: Black color & grey color
√Brightness: Above 7000lux with DC 12V
√Panel version: Double side display with standoff
√Orientation: Landscape or portrait is available
√Technics of LGP: quality acrylic LGP, laser engraving technique
√Panel design: Sharp corner display or round corner display
√Power: AC100-240V,DC24V
√Panel size: A0,A1,A2,A3,A4 and other custom size
These wire cable displays, also known as illuminated window display pockets, are ideal for displaying systems for signs, posters & literature in an eye-catching way, a great way to advertise your brands or special promotions.
These ultra-bright led window displays will draw people to your window. Its front acrylic panel is embedded by a magnetic bolt, which holds your custom graphics or signage in placement, and dramatically promotes or advertises your listing or promotions. The suspended hanging systems allow you to change the poster or signage fast without any tool in seconds. These attractive LED lightboxes can be wall-mounted and hung on the ceiling to the floor, and they can also be hung in your windows in column style.
The acrylic pockets are suspended in the solid stainless steel cable, which allows you to adjust the height of the led light panel for your business needs.
Such illuminated LED displays offer you a unique floating display that significantly grabs the attention of passersby. It helps them want to know more about what is being promoted; these wire cable displays are perfect for display graphics, posters, customs signage, window menus, promotion sales, etc. These suspended cable displays are widely used in real estate agencies, retail stores, shopping malls, retail stores, museums, art galleries, home or office design, stations, bank and chain stores, or any high street, etc.
Product Specification
| Model | Poster Size | External Size | Visual Size | Thickness | Power Supply | Brightness | Light Source | Thickness |
| --- | --- | --- | --- | --- | --- | --- | --- | --- |
| SDLDS-001A4 | 210x297mm | 333x246mm | 291x204mm | 10mm | DC24V,AC100-240V | 3500lux | Led | 10-12mm |
| SDLDS-001A3 | 297x420mm | 333x456mm | 291x414mm | 10mm | DC24V,AC100-240V | 3500lux | Led | 10-12mm |
| SDLDS-001A2 | 420x594mm | 456x630mm | 414x588mm | 10mm | DC24V,AC100-240V | 3500lux | Led | 10-12mm |
| SDLDS-001A1 | 420x594mm | 456x630mm | 414x588mm | 10mm | DC24V,AC100-240V | 3500lux | Led | 10-12mm |
| SDLDS-001A0 | 594x841mm | 630x877mm | 588x835mm | 10mm | DC24V,AC100-240V | 3500lux | Led | 10-12mm |
You Can Custom Design
Multi Option for Layout on Backlit Window Displays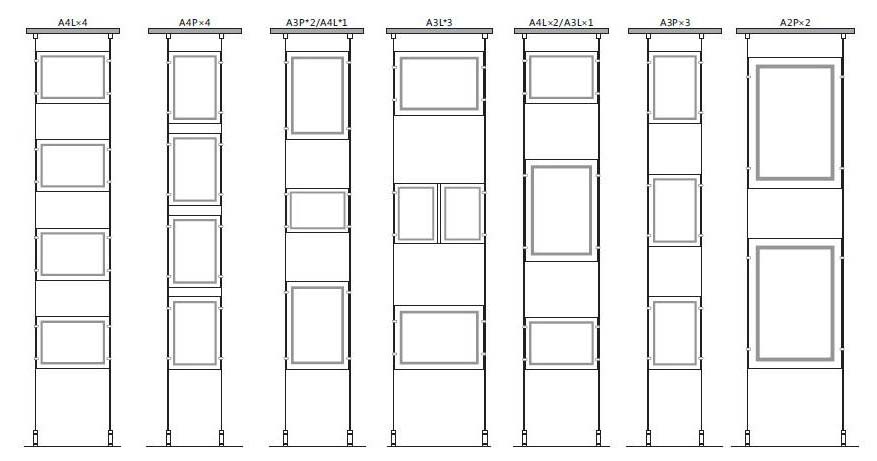 Our most popular suspended backlit window displays are available from A4 to A1 sizes. They can also be made to order. They can be hung in 1 to 5 column configurations and used in either landscape or portrait format.
Transform your promotions with these ultra-slim, 14mm LED lightboxes.
Our Light Pockets are suspended by almost invisible powered cables.
They're also easy to use. You can quickly change your posters and photos in our LED pockets. And there is no complicated wiring, all you need is a standard power socket.
Our customers from around the world have lit up their businesses with our unique designs.  Get in touch today.
Our Recent Projects
Mruiks Display has served the Real Estate Industry for many years, we are very proud of its reputation for professionalism, quality, and service, we have worked with many corporate agents all over the world.
Our illuminated window displays are widely used in Real Estate agents letting agencies, shop storefront windows, Restaurant, hotels, banks, salons, etc
Here are some example: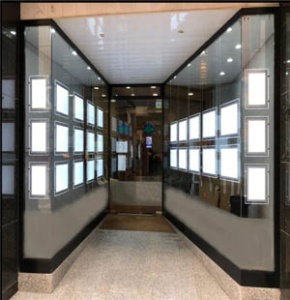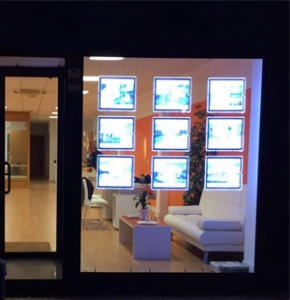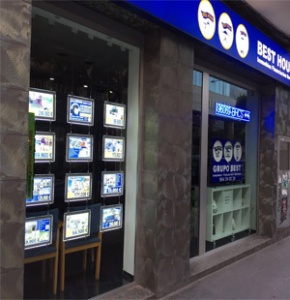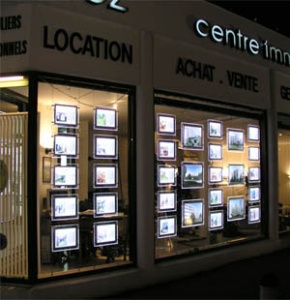 Backlit paper film is specially designed to make your window display stand out from the crowd. These white, frosted finishes are perfect for led lightboxes, illuminated photo frames, and LED-backlit menu display, they can be printed by ink-jet, laser, or inkjet printers. We have quality in-stock matt spray backlit paper, in 160gsm,250gsm in A3 and A4