Are you planning to attend an upcoming exhibition, but still don't know how to display your artwork in one attractive way? Well, you have come to the right place,these table illuminated picture frames can bring you big surprise.
By illuminated with these leds light, these table lightbox can show your promotional graphics and signage in a whole new "light"!
These ultra-slim table light boxes, use long lasting, edge-lit latest LED technology to illuminate pictures and signs. Light is spread evenly throughout the surface of illuminated picture frame ,they would illuminate your graphics and ads in 24 hours if your are closed
Our table lightbox are very energy saving ,they can save more than 80% in power consumption as compared with conventional fluorescent lamps. They are low maintenance, long lasting, virtually maintenance free for approximately 80,000 hrs.
We can custom and provide a variety of table lightbox ,from A5 to A1 and other custom size are available .
Counter Illuminated Poster Frames
Short Description:
*Counter Led light box ,single side display to advertise your business
*Made of high quality acrylic panel,illuminated by energy efficient LEDs
*Standoff design to hold your picture,easy to change prints
*Illuminated edge frames your image perfectly for a modern and clear look
*Adopt energy LED sources to illuminated your poster and artwork
*Even light distribution,super brightness make graphics look spectacular
*Can be displayed either portrait or landscape format
*Available in A5,A4,A3,8.5×11″ and other custom size

Technical Details:
√Led light color: single white led
√Frame color: Black color & grey color
√Brightness: Above 7000lux with DC 12V
√Panel version: Double side display with standoff
√Orientation: Landscape or portrait are available
√Technics of LGP: quality acrylic LGP,laser engraving technique
√Panel design: Sharp corner display or round corner display
√Power: AC100-240V,DC24V
The LumiFrame led poster frame is made of high quality acrylic,which feature a beveled edge ,it reflect the light all around for a highly professional finish to draw customers. This Crystal tabletop LED light box has one quality LGP(light guide panel) , which transfers an equal and even spread of light .
Our tabletop led lightbox offer an ideal countertop display for point of sale,it creates a well illuminated image together with a transparent framed border.
The counter illuminated poster frame is backlit using LED strips installed on the sides of the frame behind the poster ,the energy-efficient LED grid panel disperses light for even brightness to illuminated your ads in eye-catching way,so that grab the attention of passer-by and customers.
The counter illuminated poster frame are held by standoff ,which is easy to unscrew out, and allow you to change the graphics easily in seconds.
These LED Illuminated poster Kit provide a fantastic way to update your poster,graphics and signage,its built-in LEDs will stand out your promotion, offer, message or artwork to your customers or passer-by. The led lightbox kit is available with a choice of silver or black frame to suit your business style and decor.
Our edge lit LED light box holds your ads in both landscape and portrait format,it is ideal to add a stylish presentation to your retail store,chain store, information centre, doctor office, coffee shop, bar to promote ongoing specials, upcoming events, or provide important information in an attractive way.
These counter led light boxes are ideal for lighting up dark walls or creating a feature area, they are great to show featured properties ,company logo.,special offer,promotion ,these backlit lightbox displays are great to promote your range of services. These desktop led light box are perfect for coffee and tea shops, real estate agents, hair salons, beauty spas or retail stores landscape display etc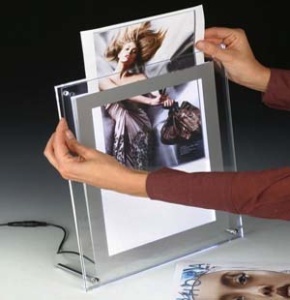 Your graphic is sandwiched between 4mm clear acrylic back sheet and a 3mm acrylic front cover. The front panel has a silver border which frames your poster.
Such counter Illuminated poster frames make your poster glow in the dark ,it is ideal to lit up your advertising poster,menu,signage, promotions and brand image,it is widely used in retail store,counter display,bar,restaurant,cafe reception ,exhibtions,art gallery etc
Edge-lit, lightweight, ultra slim and clear design make this counter lightbox display look very modern and attractive for your promotional grpahics and signage, out backlit light box provide a very efficient way to attract maximum attention to your public advertisements, signs, artwork, and marketing materials.
The backlit lightbox display feature with low energy consumption, it give off very little heat or energy ,the lightbox display have a 50,000+ hours life span. They are suitable to be placed on flat surface in countertop ,reception desk,great for interior use.
The modern crystal light box is very ultra slim ,it is just 8-10mm ,elegant on the appearance . This table illumination poster frame has one dimmer ,which can adjust the light in different brightness ,it can be display both horizontally and vertically.
Our table lightbox displays are great to illuminate your menu,graphics and listing ,they are widely used for care,restaurant ,hotel and other interior decoration
Product Specification
| Model | Poster Size | External Size | Visual Size | Thickness | Power Supply | Brightness | Light Source | Thickness |
| --- | --- | --- | --- | --- | --- | --- | --- | --- |
| SDLDS-001A4 | 210x297mm | 333x246mm | 291x204mm | 10mm | DC24V,AC100-240V | 3500lux | Led | 10-12mm |
| SDLDS-001A3 | 297x420mm | 333x456mm | 291x414mm | 10mm | DC24V,AC100-240V | 3500lux | Led | 10-12mm |
| SDLDS-001A2 | 420x594mm | 456x630mm | 414x588mm | 10mm | DC24V,AC100-240V | 3500lux | Led | 10-12mm |
| SDLDS-001A1 | 420x594mm | 456x630mm | 414x588mm | 10mm | DC24V,AC100-240V | 3500lux | Led | 10-12mm |
| SDLDS-001A0 | 594x841mm | 630x877mm | 588x835mm | 10mm | DC24V,AC100-240V | 3500lux | Led | 10-12mm |
Ready to find out more?
Drop us a line Now for Free Quote !
Backlit paper /back light film is specially designed to make your window display stand-out from the crowd.
These white, frosted finish are perfect for led light boxes, illuminated photo frames and LED backlit menu display,they can be printed by ink-jet ,laser or inkjet printers.
We have quality in-stock matt spray backlit paper ,in 160gsm,250gsm in A3 and A4